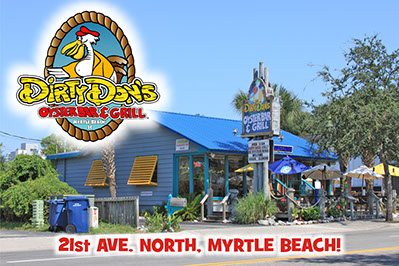 An extension of Dirty Don's Oyster Bar & Grill , Dirty Don's Rollin' Roast is a mobile oyster and seafood food party that will be our exclusive Oyster vendor at this year's NC Oyster Festival.
Serving the following menu at the festival this year: Dozen select oysters, All You Can Eat Cluster Oysters, Lobster Roll, Lobster Mac & Cheese, Oyster or Shrimp Baskets with Pups, Hush puppies, Peel & Eat Shrimp, Fish Tacos with Tequila Lime Slaw and more!
Dirty Don's Oyster Bar & Grill has two locations on 21st Ave and on the Myrtle Beach Boardwalk. Their 'Key West" style restaurant features everything from fresh oysters on the half shell and nearly famous hot wings to mount-watering burgers and perfectly grilled steaks. Try their famous 'Dirty Don's Dunkin' Pot", a generous pot full of steamed shellfish topped with corn on the cob, hot sausages and served with garlic bread.